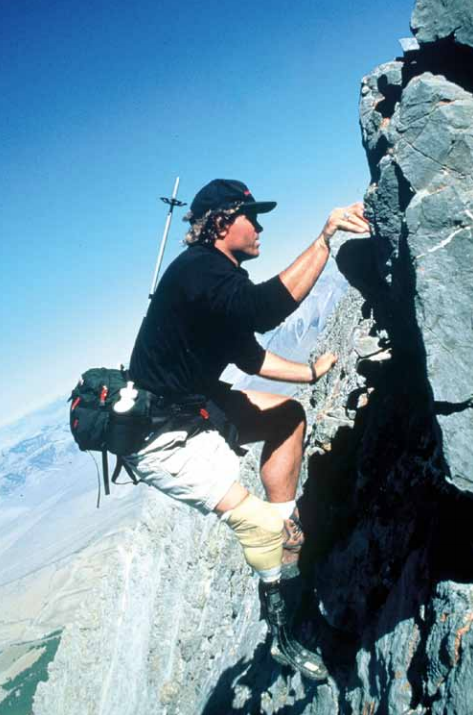 By Afnan Abdulaziz
Todd Huston is an amputee, author, world record holder and inventor, whose life is committed to inspiring others to be their best. With his journey of pain, determination, and adventure, including his expedition to the highest peaks in all 50 United States, others are able to overcome their challenges. His story helps everyone realize they too can reach new heights of well-being, success, and happiness.
To begin with, you have been well recognized for being an "amputee". What does it refer to, and how did your injury occur? – When I was a 14-year-old, I was in a boating accident where my legs were caught in the spinning propeller and this eventually caused me to have my lower right leg removed. You have a radiating smile, this reflects your great insistence, what is your perspective on that? – How you feel and react to the circumstances of life come from you making internal decisions from within yourself and not from the external circumstances of the world. No matter what the circumstance, only you have the power to choose whether something that happens in your life is a blessing or a curse. We make these choices every moment of the day. What ignited the spark in you to make these significant changes and what strengthened your determination to succeed? – A realization that our power is not dictated by the external world, but by our internal world of our mind and spirit. Having a patented invention, how would you describe your journey towards reaching that accomplishment? – Whatever problem you may be facing in your life, is probably being experienced by many others. This is when you get to make the choice of whether or not you are going to create a solution or continue seeing it as a problem and hope someone eventually will create a solution. If not you, then who? I merely created a solution for myself that also helped many others that were missing a leg and needed a better performing artificial leg.
Todd, there is no denying that you have broken world records in climbing mountain peaks, did it at some point seem impossible to you?
– Yes, and at one point I stepped off the trail and thought about quitting. Then I remembered how important it was to accomplish the mountain climbing world record for myself and others. Sometimes we may make a mistake, be discouraged and get scared, that is when we pause, remember who we are and why we are doing something and get back up and keep moving and eventually we will reach our goal. It is impeccable that you would not have reached this safe zone if it were not for the hardship and difficulties you have faced in your life, coming to that, what is the toughest moments you have ever faced in your mission? – The toughest challenges are when I have had to face my own mind and recognize and overcome my fears. The belief in our own fears is our biggest obstacle in reaching our goals and becoming our best. Fear is nothing more than a shadow that we believe to be real, and we always have the ability to overcome it. In your career, what motivates you? – Love. I think that everyone has the same desire and goal to be loved and express love to the fullest extent possible. What career or paths you take in life are only details to your attempt to give and receive love. In your field, you truly are an inspiration to many people, what pieces of advice would you give others? – That everyone you meet, every situation you face in life is an opportunity for you to learn and uniquely express the greatness that is already within you.
An American speaker Todd Huston, who made an exceptional achievement by climbing 50 mountains across the United States of America, despite having an amputated leg. Huston achievement was featured in the Guinness world records.
Minister of Youth and Sports Affairs Hesham Al Jowder In a speech during the ceremony, Minister of Youth and Sports Affairs Hesham Al Jowder highlighted the support and care provided by His Majesty King Hamad bin Isa Al Khalifa to the youth and sports movements. He also underlined the concern of HRH Prince Khalifa bin Salman Al Khalifa, the Prime Minister and HRH Prince Salman bin Hamad Al Khalifa, the Crown Prince, Deputy Supreme Commander and First Deputy Prime Minister, in addition to HH Shaikh Nasser bin Hamad Al Khalifa, Representative of His Majesty the King for Charity Works and Youth Affairs, Chairman of the Supreme Council for Youth and Sports and President of Bahrain Olympic Committee. Minister Hesham Al Jowder pointed to the recent call of the General Secretary of the United Nations Ban Ki Moon to consider the youth as a priority in the developmental schemes of nations as they form a majority of the world's population. HH Shaikh Nasser bin Hamad Al Khalifa presented mementos to the organizers and sponsors of the conference as a token of appreciation to their efforts. On his part, Minister Hesham Al Jowder presented a gift to HH Shaikh Nasser bin Hamad Al Khalifa for his generous patronage of the event. Read Full Article