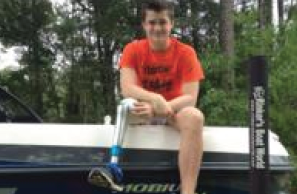 Monday, September 22, 2014
Susan McFarland
The benefit to be held for Clint Crain on Sept. 25
Photo: Clint Crain lost his leg in a boating accident. The community is invited to attend a fundraiser to raise money for a prosthetic leg set for Sept. 25.
Hargrave High School freshman, Clint Crain, had a very challenging summer. On July 2, he was out boating with his family on Houston County Lake when he fell off the back of the boat, severely cutting his leg on the propeller. After losing copious amounts of blood, Clint had his right leg amputated above the knee at the East Texas Medical Center in Crockett.
The medical expenses associated with Clint's injuries have overwhelmed his parents. Clint's mom, Kingwood High School Counselor Julie Crain, said that although they are insured, they still need to cover 20 percent of Clint's medical costs. In addition, Clint is hoping to get the newest generation microprocessor prosthetic leg, the Genium X3, which will cost $75,000.
A local fundraiser has been organized to help with the costs. The benefit will be held Thursday, Sept. 25, at the outdoor Humble Civic Arena from 6-9 p.m. The event will feature Todd Huston.
Huston is an inspirational speaker, author, world record holder, and amputee, who volunteered to speak at the event. "Todd was in a similar boating accident when he was 14," said Julie Crain. "He lives in Oklahoma and there was a local boating accident. When he Googled it, Clint's story came up. He contacted me because he wanted to send Clint a copy of his book. Then, a few weeks later he texted me that he would be in the Houston area and that he would love to speak at a fundraiser for Clint. We are really excited to meet him, to hear his story and to help Clint," said Julie Crain.
With one prosthetic leg, Huston set a world record when he climbed to the highest elevations of all 50 states in 66 days, 22 hours and 47 minutes. According to his website, Huston has been featured in thousands of publications throughout the world, including Sports Illustrated, Forbes, the Wall Street Journal and "Chicken Soup for the Soul, A Second Helping." He has appeared as a special guest on "CBS Year in Sports" and Robert Schuller's "Hour of Power" and has been interviewed on ABC, NBC, CBS, CNN, TNN, "Inside Edition" and "Extra," plus numerous radio programs.
To make a donation or for more information, go to gofundme.com/Clint-Crain. There is no set fee to attend the fundraiser, though donations will be welcome. Read Full Article