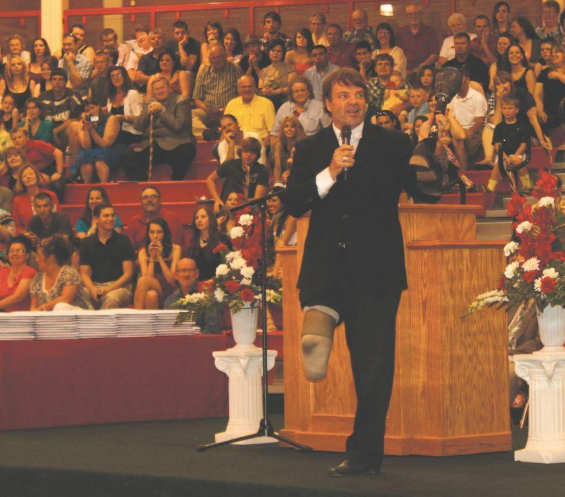 The McPherson High School class of 2013 was showered with cheers, applause, and advice during graduation ceremonies Saturday.
The McPherson High School class of 2013 was showered with cheers, applause, and advice during graduation ceremonies Saturday.
Following the entrance of the graduates to "Fanfare and Processional" played by the MHS band and orchestra, Principal Bret McClendon congratulated them and gave two pieces of advice. The first was to be nice, as they will never know what help they may need from acquaintances in the future. The second was to vote, as that is a right they will have no matter what their life circumstances.
"Changes are coming your way. Life, as you have known it for the past 13 years, is over," he said. "If that doesn't scare you, it should. If it doesn't excite you, it should. Society will now treat you like adults and expect you to act like adults. The stakes are higher, as are the opportunities … We know you will do great things."
Three student speakers offered their own suggestions for their classmates.
Class President Casey Gregory reminded the class of events they experienced while in school together and encouraged them to not take them for granted. Examples were apocalypse scares, the teacher inside jokes and the Kansas earthquakes of 2011.
"Be proud that you're here," he said. "Be proud that you've made it. We've made it. The future is finally here."
Salutatorian Adam Boyer preferred to soak up the here and now, and cherish the little time they had left together.
"Don't wait until the ceremony is over to contemplate exactly how you feel sitting in those chairs. This is your time to look around and say, 'I'm here.' We need to live our last few moments at McPherson High School without regrets. Let's share the time we have left together."
Valedictorian Sidney Boswell viewed the future as being an opportunity to try new things. The 130th graduating class will make a difference no matter what path they choose, she said.
"That's the beauty of the future — it's all a mystery," she said. "Most of us have a vague idea about what we're going to do, but not much more than that. And the great part is, it doesn't matter … because we have all these years to figure it out. … In the end, we get to choose what direction we want to go in our lives. We can test the waters, and most of all, have fun."
The message of featured speaker Todd Huston was one of hope and endurance. The author and psychotherapist lost his leg as a teenager due to a boating accident but was later the first disabled person to climb to the top of every U.S. state.
"The idea was to encourage everyone that we all have this strength within us," he said. "Whatever challenges you may have … you can overcome any of those challenges. You are living proof of that. You have overcome graduation, and for that I congratulate you. You are now going to be the new leaders, you're now going to be the ones changing the world."
Huston used his life story to share nuggets of life advice for the graduates. For example, he once thought would never walk again.
"There's going to be times when you're going to go through something that is really tough, and it's going to feel like an eternity when you take each one of those steps," he said. "But don't ever give up. … Some of those battles are going to last a long time, but whether it's short or long, you have everything it takes in you to overcome."
He stressed life is not about making mistakes, but getting up every time one falls. And it's also about what's in their hearts.
"You have no idea how big your life might turn out," he said. "But it's not going to be measured by whether or not you're the richest or the smartest or the greatest. Measure it by those things that really matter. Do you have love in your life? Do you love others? Do you have peace in your life? Do you have joy? Measure your wealth by what's in your heart and what you're able to give to the hearts of others."
The MHS class of 2013, he said, has many opportunities to do this.
"You have unlimited potential," he said. "Yes, you have accomplished a lot, and that's why you're sitting here today. But you have not accomplished anything compared to what you're capable of accomplishing during the rest of your life." Full Story