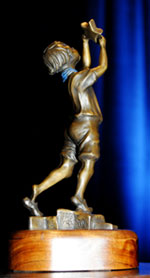 November 14th Awards Banquet
The DREAM Institute will be honoring Todd Huston with the 8th Annual Power to DREAM
Achiever Award on November 14, 2011, at the Tulsa Marriott Southern Hills. We will be honoring the 2011 DREAM Institute Scholars and one scholar who has recently graduated with his degree. The Institute will also be presenting The Carolyn Dubie Memorial Trustee Award .for Excellence to Blue Cross and Blue Shield. The keynote speaker will be Todd Huston
Todd Huston knows how to overcome incredible challenges. When his legs got caught in the propeller of a boat at age 14, his life was radically changed.. Ht: battled to keep his legs with numerous surgeries, but the bone disease eventually forced him to have one leg amputated. Todd became n psychotherapist and clinical director of the Amputee Resource Center in California. He also worked in psychiatric hospitals for adults, adolescents, and children. He used his professional skills and personal experiences to help patients achieve more in their lives. He also trained health·care professionals in working with individuals coping with disabilities. Todd speaks worldwide inspiring others to overcome adversities despite their challenges. The power to DREAM Achiever award is a bronze sculpture of the institute's logo, a child reaching for a star and is awarded yearly to someone who has overcome adversity and is giving back to help others overcome their adversities.
I am requesting that you consider becoming a sponsor of this year's great event. As a sponsor of the event, you will receive recognition in the event program, Institute publications, and receive a tax-deductible receipt of which a percentage of your seat (s) is tax-deductible sponsorship form). Also, your sponsorship will go towards the 2012 scholarship programs.
Your participation in the 8tlt Annual Power to DREAM Achieloers Awtml Ceremony will send a strong and positive message to Oklahoma students, educators, and families as well as communities that you care about educational excellence and that regardless of one's challenges in life, higher education is vital in today's world. You wil1 play a major role in building a greater tomorrow and grooming the next generation of community leaders.
Thank you in advance for your consideration. I hope to see you on November 14, 2011.
If you have any questions please contact us at 918-660~3408, or be e-mail dream (dreaminstitute.org. Our website is www.dreaminstitute.org.