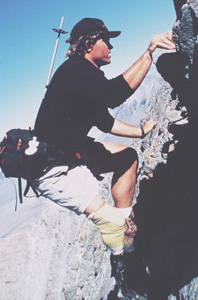 Todd Huston knows how to overcome incredible challenges. When his legs got caught in the propeller of a boat at age 14, his life was radically changed. Despite surgeries, he had to have one leg amputated.
Todd became a psychotherapist and clinical director of the Amputee Resource Center in California. He used his professional skills and personal experiences to help adults, adolescents and children achieve more in their lives.
Then he completed a world record-setting Summit America expedition by climbing to the highest elevations of all 50 states in only 66 days 22 hours and 47 minutes, shattering the original record by 35 days!
Todd is the author of the book "More Than Mountains: The Todd Huston Story" and has hosted inspirational radio and television programs.
For more information on Todd Huston, please visit his website at
"All In with Coach Bill Hart" is sponsored by Knowledge Coop, creators of absolutely brilliant training materials for the mortgage industry!
https://www.knowledgecoop.com/allin
Bill Hart is a coach at Building Champions in Lake Oswego Oregon. He is also the author of the book "White Collar Warrior: Lessons for Sales Professionals from America's Military Elite".
Podcast produced by Studio C Creative Sound in San Diego CA